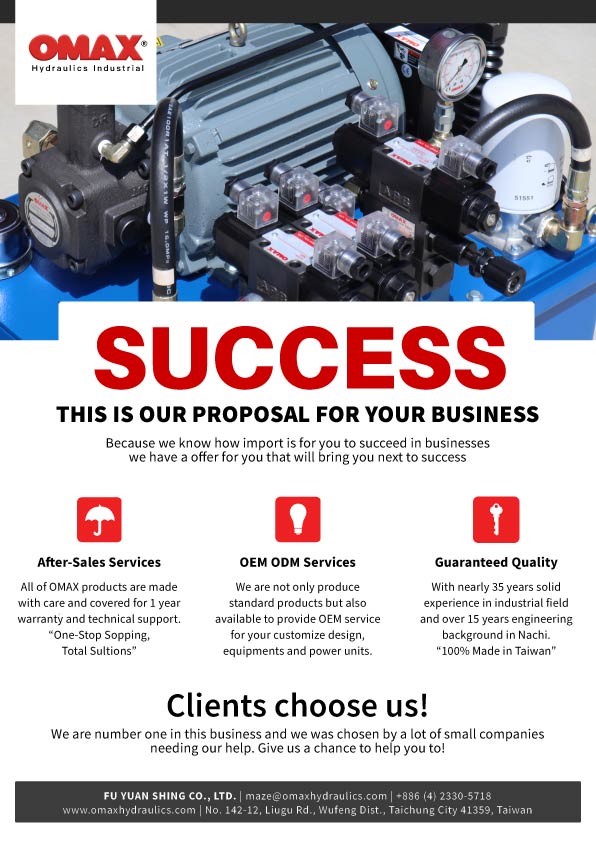 Let

OMAX

grow your business
To grow the marketing demand worldwide, OMAX is actively looking for partner with distributors in various market and countries. We are aim to fulfill the requirements and problem-solving by circuit design and professional technical support.

OMAX Hydraulics is a manufacturer, supplier and circuit designer specialized in hydraulic systems, equipments and power units. We provide professional and complete one-stop service and problem-solving solutions for hydraulic system with a wide range of products, technical support and circuit design services.
With over 35-year experience in hydraulics industrial and 15-year engineering background in Nachi, we adhere to Japan's Quality Management and Taiwan's Technique to produce each products.
* Services
Circuit Design, Technical Consulting Support, After-Sales Service.
* Customized Equipments
Hydraulic Power Unit, Hydraulic Press, Deep Drawing Hydraulic Press, Automatic Baling Machine, Manifold Block, CNC OEM.
* Hydraulic Products
Piston Pump, Vane Pump, Gear Pump, Modular Valve, Pressure Control Valve, Directional Control Valve, Flow Control Valve, Monoblock Valve, Sectional Valve, Proportional Electro-Hydraulic Valve, Pre-Fill Valve, Manually Hand Valve, Cartridge Valve, Lift Valve, Cylinder, Induction Drive Motor, Pressure Switch, Heat Exchanger, Oil Cooler, Filter, In-Line Check Valve, Stop Valve, Throttle Needle Valve, Super Flexible Coupling, Liquid-Filled Pressure Gauge, Filler Breather Filter, Air Breather, etc.
* Applications
Machine Tools, CNC Machinery, Blending Machinery, Molding Machine, Injection Machine, Press Equipment, Packaging Machinery, Industrial Machinery, Security Equipment, Tipping Truck, Plant Trailer, Lift Platform, Heavy-Duty Equipment, Waste Recycling Equipment, Farm Baler, Road Bollard System, etc.
If you are interested in become our partner, please feel free to contact us at anytime.
E-mail: maze@omaxhydraulics.com
Tel: +886-4-2330-5718